Posted by
rcamper
on Mar 28, 2011 in
Blog
,
Recipes
|
0 comments
Not to be confused with risotto. This uses more standard rice grains (personally I use jasmine rice – almost always). Don't get me wrong – risotto rocks! It's just that I may not want something so heavy, so often. Or I may not have time to mind the stove for a good half hour. This rice is somewhere in between the standard white rice and risotto. It's also another one of those "techniques" that will hopefully spark some creativity and resourcefulness when you find yourself bored with your side dish selection. Make a ton of this stuff. It reheats very well. Throw on some leftover sausage, steak, or whatever.
The "technique" is really all about sautéing stuff before throwing the rice in and toasting it just like you would a risotto. Try different herbs, garlic, onions, red or yellow peppers. Toast some almonds. Throw in some sun-dried tomatoes. Use chicken stock, duck fat. Crap – now I'm hungry again.
Here's the recipe:
Savory Rice"oh-toe" with Pine Nuts
1 C Jasmine rice
A couple glugs* of olive oil
1 medium shallot chopped (see pic below – it's that football looking thing in the middle)
2 green onions chopped crossways real thin
1 handful* of each: fresh rosemary, thyme and sage chopped finely (would total 3-5 T. after chopping)
1 good splash* of  white wine. Something citrusy like a sauvignon blanc. Make it a decent wine, too (like one from New Zealand). If this rice is going with chicken or fish, then you'll want that same wine at the table. Trust me.
1 and 1/4 C. of water
kosher salt and cracked black pepper
4-5 fresh basil leaves finely julienned
1/4 C. pine nuts
*note – don't get weirded out by my non-specific quantities. When you're baking – then you can obsess over exact quantities. With cooking, you get a ton more grace. You just do.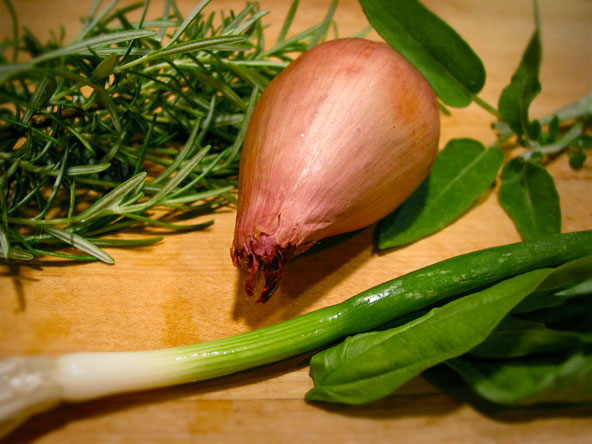 This first step is key. In a bowl or glass measuring cup, rinse rice about 3 or 4 times until water is no longer cloudy, then drain (this gives the rice a perfect pearly texture when it's all said and done).
Throw a sm-med sized saucepan on medium-high. When pan is good and hot, add enough olive oil to coat the bottom. give it a moment to get hot (you'll see it shimmer a bit), then add the shallots, green onions and half of the fresh herbs. Throw in a good pinch of salt and some cracked pepper. When shallots start to get translucent splash some wine. It should smell crazy-freaky great in your kitchen at this point.
When wine is mostly evaporated, add rice to pot and stir with a wooden spoon for 1-2 minutes. Add water and stir again. Add rest of fresh herbs and let come to a boil. turn heat down to low simmer and cover for 18-20 minutes. Don't peek. You'll let the steam out!
Throw a small fry pan (preferably stainless steel) on medium-high. When pan is good and hot, add the pine nuts. (Now is a good time to practice that cool flipping thing that you see the TV chefs do all the time.) In 5 minutes or so, the pine nuts will start to get some brown-ness on them. When they look nice and toasty (see pic below) , take them out carefully into a small bow and set aside (they're stinkin hot).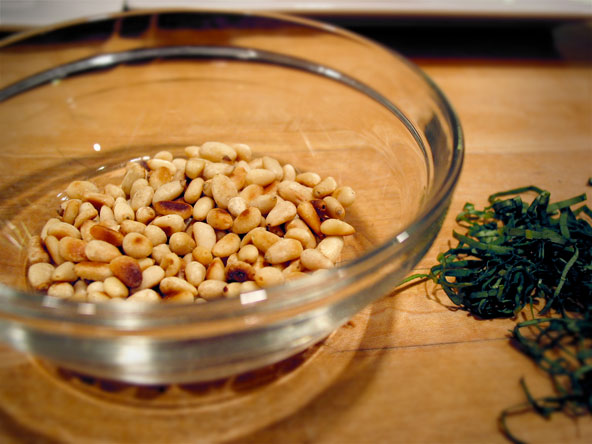 When rice is cooked, remove from heat and let rest for about 5 minutes or so. Then stir up with a fork while adding some more salt and pepper. Trust me – most people will not salt this enough. It's okay. This rice has flavor that needs to be coaxed a little.
Add the fresh basil and dump in the pine nuts. You can stir it up, or pile it on the top and make it look all cool in a nice bowl.
Enjoy!
Leave a Reply