Posted by
rcamper
on Jan 5, 2013 in
Blog
,
Recipes
|
0 comments
I have a confession to make. I don't really like cookies. I mean really – how excited can you get over a little disk of sweetened stale bread? So before I start getting hate comments, let me say that, yes, every now and then I'll eat one and think "damn!" But it's really pretty rare… and they're always homemade (but you knew that). A well crafted white chocolate macadamia nut cookie, for example, can stop me in my tracks. My dear friend's mom makes an ice box cookie that has no equal. She needs to have her own show. The bite-sized sugar cookies that come gratis with the house coffee at Empire Cafe might as well be straight-up banned for its addictive qualities. And really, it's because the coffee makes it so.
So obviously I'm not a cookie hater.
But speaking of coffee and cookies… These little gems I'm about to unveil are so powerfully matched with a good freshly brewed cup of french roast (black and only black), that you'll swear years of research went into the pairing. And who says that there wasn't? But to be sure – they'll also disappear on their own, just fine.
Now – a quick little preface on cookie texture. Texture is everything to me. I'm not a fan of the thick cookie that doesn't flex. A cookie needs to flex – even after it cools. If it has a crispy outer skin and has a little chewy sticky flex to it, then it scores. Big. These Ginger Snaps have that. But only after I jacked with the shortening to butter ratio. If you want them to be harder and crunchier, and perhaps a little less flat, then simply bring the butter down and shortening up. Personally, I like these.
Pop's Ginger Snappy Cookies
1/2 C. plus 2 T. unsalted butter
2 T. shortening
1 C. sugar (slightly rounded) plus 1/4 C. for coating dough balls
slightly more than 1/4 C. molasses (Brer Rabbit brand if you can find it)
1 lg. egg
1 tsp. ground ginger
1 tsp. cinnamon
1/2 tsp. (slightly rounded) cayenne pepper
1/2 tsp. (slightly rounded) ground cloves
1/2 tsp. salt
1-1/2 tsp. baking soda
2 C. general purpose flour
Cream the Crisco, butter and sugar with mixer on low speed, then add the molasses and egg.
In a separate bowl, measure out  the dry ingredients: ginger, cinnamon, cayenne, cloves, salt and baking soda, and mix well with 2 C. flour.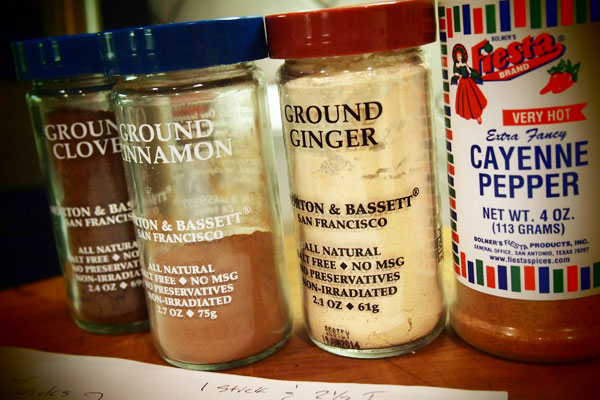 Your eyes are correct. That's cayenne. This is what makes them extra snappy. And extra addicting.
Blend in with 1st ingredients.  Unless you have a heavy duty mixer with dough hooks, you will need to blend in the flour and spices by hand, using a strong wooden spoon.
Chill dough for 4 – 6 hours; works best if refrigerated overnight.  Chill in a covered pan or bowl that is resistant to sticking.  I have had best results placing the dough on the non-stick side of Glad "Press'n Seal".
Now, we're ready to bake.
Preheat oven to 350 degrees F. Rack in middle position. Best cooking results will be had by using gray non-stick cookie sheets. Black cooks hotter and the cookies are more likely to stick to the pan.  I use 2 medium size "Baker's Secret" pans. Two pans provide a continuous process from oven, to cooling, to preparing the next batch. If you want to be a cookie-baking ninja – go for three pans. Cooking with 2 sheets at a time in the oven is not recommended.
Roll the dough into a large log that can be equally separated for either 4 dozen or 6 dozen cookies. Note – keep all dough in the refrigerator when not being worked into balls for immediate cooking. Do not allow the dough to become warm.
It's up to you to determine how best to separate the dough into equal, small batches, as necessary to produce 12 cookies at a time. Get yourself one of those pastry scrapers to make quick work of this. You don't want to over-handle the dough during this process. For 6 doz. cookies, the dough balls will be about the size of a med-large marble (ask your parents if you don't know what marbles are).
Put a layer of sugar in a shallow bowl or plate and roll the "marbles" around to coat.
Place these sugared balls on an ungreased cookie sheet, spaced to allow for some spreading of the dough.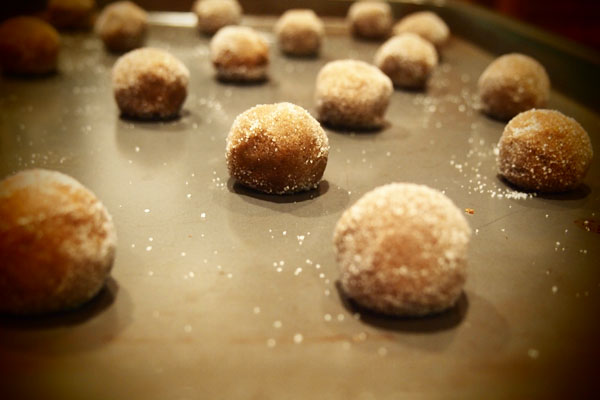 Bake up to 8 minutes for a 6 dozen batch. Bake up to 9 minutes for a 4 dozen batch. Leave cookies on hot cookie sheet for several minutes after removing from oven, and then place them in a large bowl or on a large plate, to finish cooling.
Lightly wipe each sheet with a damp paper towel between batches, otherwise some sticking may occur.
Makes 4 to 6 dozen cookies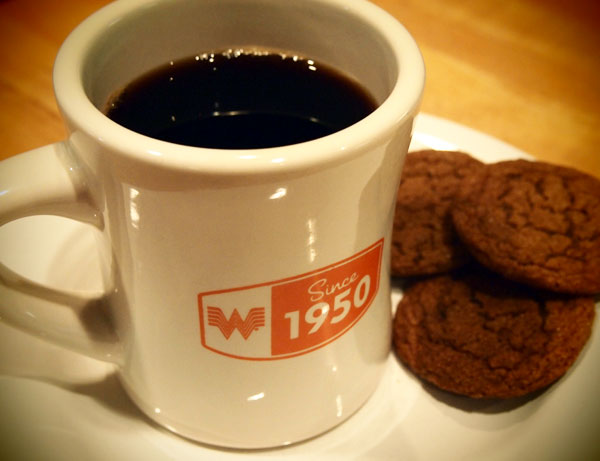 Serve with extremely good coffee. Shown with my late Uncle Ray's favorite coffee mug (now my favorite coffee mug).  
I'm giving a shout-out to Java Pura (roasters in Houston) for their french roast. Perfection. If you need to add anything extra to your coffee (at least coffee of this caliber), then you need to re-think your life. Yep, I said it.
Leave a Reply