Posted by
rcamper
on Mar 3, 2011 in
Blog
,
Recipes
|
10 comments
Alright friends – this is the very first post on my very first blog! I thought we would kick off "Deal With This" with a recipe I worte for a Pakistani Magazine called Andaaz. Enjoy!
A comfort food with roots in Italy, Risotto also has many derivatives in other cultures (couscous and paella come to mind). Definitely not for the Atkins proponents, this dish serves up a starchy creamy medley of flavors and textures that can easily be enjoyed by itself. But if you choose to add meat to the plate, I recommend a simple grilled preparation (anything lamb or pork would work great) with salt and pepper and maybe some fresh rosemary, so the Risotto can enjoy the spotlight. Let the meat be the side dish, here.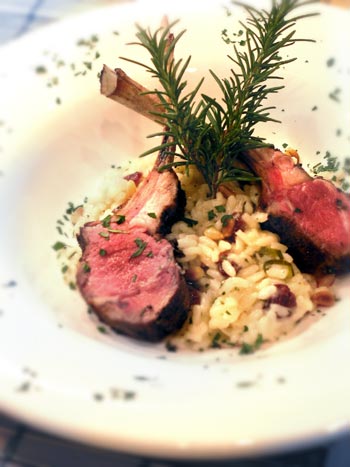 Serves 4-6
Ingredients:
1 16 oz. carton of good quality chicken stock (may substitute chicken broth)
2 T. olive oil
1 T. butter at start of recipe
2 T. butter at finish
1 clove fresh garlic chopped, or medium pinch of good quality dried minced garlic (such as Penzey's)
1 large shallot chopped
1 green onion chopped
1 T. fresh rosemary chopped
8-10 oz (approx. 1 1/2 cups) Carnaroli (preferred) or Arborrio rice
1 splash (approx. 1/2 cup) of white wine
1 1/2 cups finely grated 6 month aged Manchego cheese
1 handful (approx. 20-25) dried cherries
1 pinch (approx. 1 teaspoon) finely chopped fresh mint
Juice of half a lemon
1/3 cup pine nuts toasted in a dry skillet over med-high heat for approx. 5 minutes, or until golden
Before prepping any ingredients, begin warming chicken stock in saucepan over low heat. Do not allow to simmer.
Heat olive oil in medium saucepan over med-high heat, and melt 1 tablespoon of butter.
Add shallot, onion, garlic, and rosemary (reserve a pinch for the end) until shallots are translucent (approx. 2 minutes).
Add rice and stir to toast slightly for 1 minute, then add wine* and stir until all liquid is fully absorbed.
Ladle in stock from the other pot until rice is covered. Let simmer, and stir frequently until all liquid is absorbed.
Continue adding stock in batches, each time stirring until all liquid is absorbed. Do this until rice is tender, but still has a very slight "tooth" to it (approx 15-20 minutes).
Remove from heat and add final ingredients: cheese, cherries, reserved pinch of rosemary, pinch of mint, lemon juice, pine nuts, butter and a bit more stock until semi-runny. Stir to combine, cover and set aside for 5 minutes. Reserve leftover stock (if any) for reheating later.
Garnish with shavings of Manchego cheese and/or fresh chopped Italian parsley.
Serve by itself or with grilled lamb rack, lamb chops, or pieces of beef tenderloin.