Posted by
rcamper
on May 26, 2011 in
Blog
,
Recipes
|
0 comments
Not to be confused with traditional smoked salmon. This is more like BBQ. Necessity being the mother of invention, it's only fitting that this mother of invention happened on Mother's Day. We had a lot of moms over and we needed to love on them. I know my wife (an amazing mother to our 6 year old), and I know my mom (both of whom were in attendance), and they love seafood – especially salmon. But with 12 adults total, pan-searing or grilling individual fillets would be way too much work (not to mention maddening as dishes would be plated 2 at-a-time over the next 5 hours). So I decided to try something not previously attempted at home. The results were so stinkin' good (definitely a "Deal With This" moment) that it had to be shared. And in true DWT style, this is a recipe that you can jack with to your heart's desire and still be a mind blow:
Pecan-smoked Salmon on the Halfshell
A side of salmon (figure 1 pound for every 2 eaters) skin on with pin bones removed. (Be real and get yourself some decent grade salmon. None of that farm-raised cheap stuff with orange color added. Organic rocks.)
Minced fresh herbs (see below – but use what you like) – reserve a Tbs for the compound butter
1 half stick of unsalted butter at room temp
Extra virgin olive oil
Salt (kosher) & fresh cracked pepper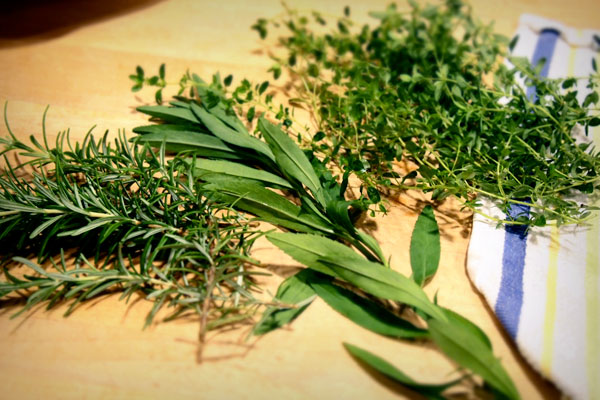 This was my herb selection for the night. Rosemary, Texas Tarragon. (AKA Mexican Dandelion, and Thyme)
For the compound butter, mash 1Tbs of minced fresh herbs into softened butter until blended and set aside.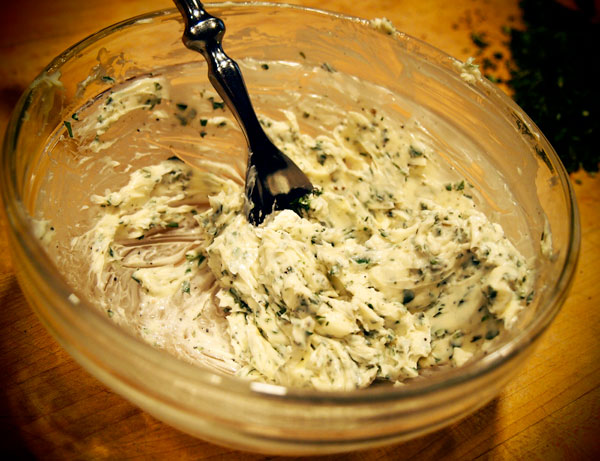 Build a charcoal fire in your grill (recommend 2 chimneys full of lump hardwood charcoal). When coals are hot, spread onto pit. Lower cooking grate to setting closest to fire.
Prepare salmon by lightly drizzling olive oil over top and sprinkle salt, fresh herbs and cracked pepper. Using fingertips, press several pieces of herbed butter into the side of salmon. (Side note – save the rest of your compound butter for steak night. Put a pat of it on your steak when you pull it from the heat, and you. are. done.)
When grill is at its hottest, brush grates clean and lightly spray with canola or vegetable oil. Add a chunk or two of pecan wood at the edge of the charcoal fire. Open intake vent and top chimney halfway. Let grill heat back up for another 2-3 minutes until a good smoke is pouring out of pit.
If you only have a gas grill at your disposal, then make a pretty large foil pouch filled with smoke chips, or 2-3 pecan chunks and poke some small holes in it. Turn grill up to med-high and give it about 15 minutes to preheat and for the smoke to start billowing.
Lay salmon on grill and close lid. Check at 7 minutes and every 2 minutes until salmon is mostly cooked from the underside and top side is still pink (every BBQ pit is different – as is the ability for most folks to build a kickin charcoal fire –  don't worry, this ones pretty hard to screw up). Carefully remove salmon and place on flat cutting board or baking sheet.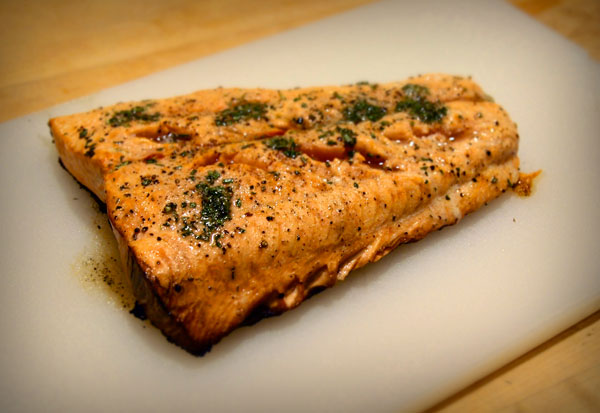 This one was done medium rare. You may not like this. Leave it on longer. It's no big deal.
With a pie spatula, slide off large pieces from skin and plate.
Finish with grey sea salt, your favorite sauce, throw it on some fresh greens or pasta, or smear it on your face. You cannot lose.
Please o' please try this one out and then do it all over again and add your own tastes to it. Tell the DWT readers all about it below:
Leave a Reply